Advertisements
Advertisements
Run 3
Run 3 is the third part and the best in the game Run. One guy lost in a challenging area, and the character must run and jump nonstop to overcome hundreds of holes on the runway and avoid fall into the air.
On the runway, he can pick up items and skillfully turn left, right or jump to across the holes. Upgrading from one level to another and the higher the level the faster the game and it requires fast speed. The game requires the patience and skill but truly attractive.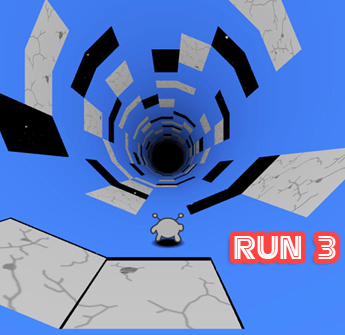 How to play?
Control the player in 02 ways:
Option 1: Using the letter key on the keyboards, including A, D, W
Press A : run to left
Press D : run to right
Press W : jump
Option 2: Using the arrow keys
Press the left arrow key : run to left
Press the right arrow key : run to right
Press the up arrow key : jump
Depend on the time, you press and hold the key to control the character. Space key can be used to jump easier.
Cautions to play
The games in series Run 3 are based on a basic model of an alternative space tunnel system that players (also called runners) need to jump and run to complete the levels. There are many holes and dangerous gaps inside the tunnel.
Besides, the tunnel floor is quite fragile if any collision, so players also need to avoid moving or jumping, which increases the difficulty of the game. Run 3 in a whole is more challenging and addictive than previous versions.
Features
In the version, the player task is to run through the levels and keep his character avoid multiple barricades. Completing each level and the player earn the coins, then the coin can be used as a currency in order to buy new characters in the game store including skaters, lizards, kids and students, each of which has different skills and advantages. For example, the kid is lightweight, so the kid cannot flat the tiles…
Any game has its drawbacks. One is the depression as the game requires excessive rotation. If you are sensitive to constant motion, you can easily get dizzy or headache after a few minutes.
Also, sound improvement is an important advantage of Run 3 compared to previous series. Sound bring back experience and excitement. Sound make the player feel like running after something or carrying something very important or being chased.
As the previous versions, Run 3 is a multi-level exploring game for all ages. Currently Run 3 is available on mobile so players can easily install on smartphone to experience.
Wish you have a good time with Run 3!