Advertisements
Advertisements
Winner of the March 2019 competition
Every month, developers win cash prizes because of the most highly rated new games!
First-Place Winner
Beranek, developer of Tales of Nebezem: Elemental Link Part 2: I want to thank Kongregate, especially Greg, and of course, my gaming fan community. If anyone wants to learn more information, visit here to find out – it contains a lot of information about games, levels, countries, languages ​​, etc.
Second-Place Winner
Tenfor, developer of The Dark One:
First, I want to thank all the game fans and especially your constructive contributions to make the game more and more complete; For new developers like me, those contributions are super helpful.
I like creating games but "The Dark One" is my favorite project so far, and I am impressed with every moment of creating game development. RPG has always been my favorite genre when I started the Landor Quest quest; My goal is to develop a role-playing game, but unfortunately, my programming skills are not good enough for a complicated game. That's why I choose to accompany Kongregaters !. I am trying my best to develop the next part of the game. My goal this time is to increase the time and number of characters: a witch (Tyren), a warrior (Landor) and an assassin ( A new person), add many levels, skills, sounds and make it mobile-friendly. I hope you will welcome it. I can't wait to launch it on Kongregate!
Thank you for playing!
Third-Place Winner
Ferocity, developer of Temple of the Four Serpents: Hello! First of all, honestly, I am still in the process of handling negative and positive feedback from players.
This game has been developed for a long time because I'm busy studying, so I don't have all the time for it. While of course, I was hoping people would like and play games when I released it, I was not sure how it would work. But looking at the present when I see you welcome it, I am thrilled and thank you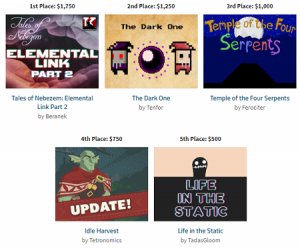 Fourth-Place Winner
Tetronomics, developer of Idle Harvest : Oh, this is our lucky month, it's unbelievable that Harvest became the fourth-best game of March. We worked on Idle Harvest for a long time, so to see the results of We positively received as unbelievable!
All of us are passionate about game development, so we gathered together as a team and created Idle Harvest together. We have learned a lot through evolution, but our most significant lesson is design skills.
We have high ambitions for Idle Harvest. We are very grateful for the feedback you all have made to make our game better, and we are delighted for the journey ahead as we continue to build. Publishing our project to Kongregate has brought us new energy for the game because now we feel we are creating a game not only for you but also for you!
We cannot thank you enough for support so far, and we are very happy for what the future holds for Idle Harvest._
Fifth-Place Winner
TadasGloom, developer of Life in the Static:
I had an idea and done it for about ten days, and I felt thrilled and energetic during this time. Thanks for the support and companion of the player. Congratulations to the remaining winners below!